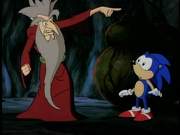 Lazaar (voiced by Dan Castelanetta) is a wizard who was evil. One-hundred years ago, Lazaar caused great evil with his spell computer, but at some point, he regretted it and sometime later he started to hibernate in Robotropolis' Forbidden Zone, where his guardian protects him.
Ad blocker interference detected!
Wikia is a free-to-use site that makes money from advertising. We have a modified experience for viewers using ad blockers

Wikia is not accessible if you've made further modifications. Remove the custom ad blocker rule(s) and the page will load as expected.