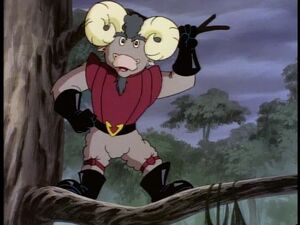 Ari the Ram (voiced by Dorian Harewood) was the leader of a group of Freedom Fighters which were captured by Dr. Robotnik. In exchange for their freedom, Ari reluctantly agreed to make a deal with him to help him capture Sonic. Robotnik broke his promise and instead roboticized the group. When Robotnik was about to send Sonic into the Void, Ari saved Sonic and was sucked into the portal instead. Later, Ari was rescued by Sonic. In the final episode, Ari helped the other Freedom Fighters in the destruction of the Doomsday Project, but was captured. He was eventually saved by Sonic and Sally.
Ad blocker interference detected!
Wikia is a free-to-use site that makes money from advertising. We have a modified experience for viewers using ad blockers

Wikia is not accessible if you've made further modifications. Remove the custom ad blocker rule(s) and the page will load as expected.